Regular price
Sale price
$28.99
Unit price
per
Sold out
Share
View full details
ESPECIALLY GREAT FOR KIDS! Smaller children ride in the back seat, and are the passengers most likely to be bothered by high temperatures and bright sunlight. Protect your loved ones in their car seats and booster seats by applying these sunshades to the rear side doors of the car. This provides UV protection, cuts sun glare, reduces heat, and prevents your children from getting burned or overheated

INCREDIBLY EASY TO INSTALL! The flexible, stretchy mesh just pulls down over the open car door. Fits almost every car to a maximum of 44. 3 inches by 20 inches.

YOU CAN STILL ROLL DOWN THE WINDOWS! The mesh is breathable, and because it's on the exterior of the door frame, you can still roll down the windows and enjoy a nice breeze from outside while staying protected from the sun. Stick on tinting can't do that!

SATISFACTION ! ! Each sunshade is well made, durable, and easy to use. Buy a set today before it gets any hotter out there!

BONUS GIFT: an eBook featuring 10 creative ideas for keeping children occupied in the backseat while traveling.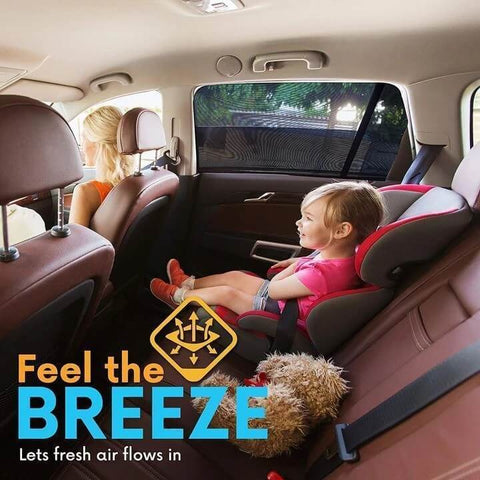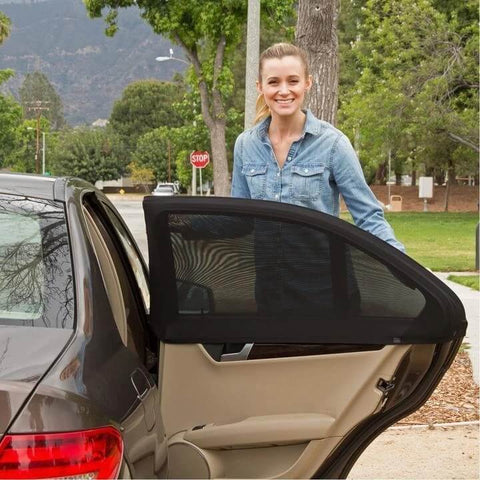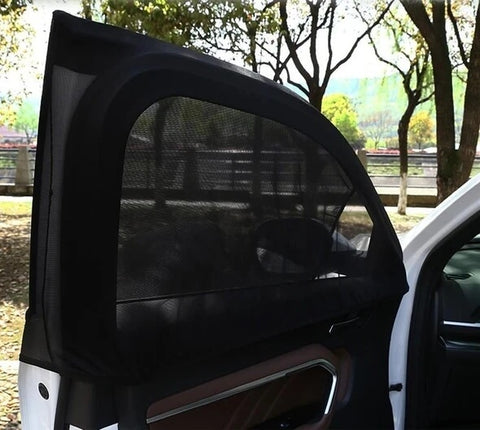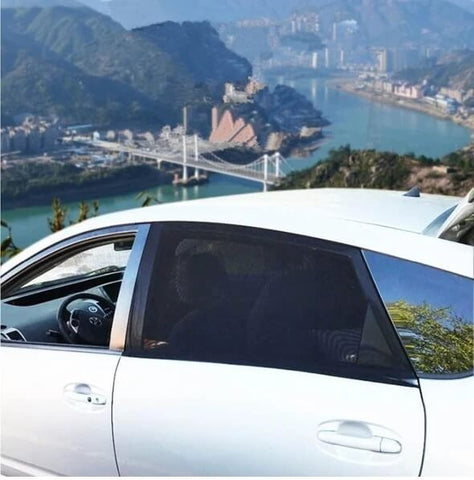 FEATURES
It can install on front windows when driving, but you can still see the rearview mirror, and you can put your hand out of the window;
Eliminate sun glare;
Reduces interior heat and prevents your skin from getting burned or overheated;
Your new car seat interior material also can be avoided aging and fade;
Avoid the loss of maintenance costs
Avoid glare, high temperatures and protect privacy better in the car. 
It is so light that you can easily fold it into a compact size that fits into a car storage box when not in use. Support machine washing
Lowers the temperatures in the car.
FAQ
Q: Whether it fit your car?
A:  Sure. Stretchy material ensures it can cover most doors. Fits All (99%) Cars!!! Please be free to choose yours.
Q: Whether front window and rear window can be both used?
A:  In fact, there is a certain difference in size, so we've separated the front and rear windows for you to choose your need.
Q: When i am using it, can I roll the window down ?
A:  Of cause. Don't worry about it. It's fixed to the window, but it's breathable, and the window can be rolled down inside.